Each year during the third week of May, Emergency Medical Services (EMS) across the nation celebrate National EMS Week. The American College of Emergency Physicians states that the purpose of this week is to recognize the individuals working in medicine's "front-line": EMTs and Paramedics. I would like to provide an insider's perspective on why EMS Week is important to those of us who work day in and day out to provide care to the sick and injured in our communities.
Working as a Paramedic for the past 12 years has shown me what a challenging, yet extremely rewarding career EMS can be. I have laughed uncontrollably with patients, met patients with incredible stories, grieved with them, and shared moments of pure joy when new babies were brought into the world (even if I was thinking to myself… "Don't drop the baby… Don't drop the baby!!")
Those of us working in EMS have stories that "regular people" would never believe. One call I'll never forget is chasing a naked, confused, diabetic patient down the street trying to coax them into our ambulance to give them the medication needed to treat their altered state. (We succeeded!) However, not all of EMS involves funny stories or the action seen in TV shows and movies – there can also be periods of extreme boredom waiting around for the next call and try not to annoy your partner with fun facts about the migratory patterns of a European swallow. (Did you know they like spending their winters in Africa?)
The reality of it all, as exciting, funny, and sad as EMS can be is that there is no other job like that of an EMT or Paramedic. We sometimes meet people at the lowest scariest moments of their lives, and it is our job to try and "fix" them. At times we experience a significant personal feeling of defeat when we are unable to accomplish this goal, but we fight through it as an EMS family. Even in our darkest moments, we all know that all it takes is that next call to give us a brighter outlook. It could be a call where our actions save a husband of 30 years or even just a simple conversation with an elderly patient on the way to her dialysis appointment – and we are back in the game ready to go.
I would not trade my experiences over the last 12 years for anything else. They have helped mold me into the person I am today. I know that I am not alone in this feeling as all of my brother and sister EMTs and Paramedics would agree. So, when you see that ambulance sitting on the corner, or the Paramedic out and about, make sure you say thank you (I would not yell it out the window as you pass an accident scene, our police friends get kinda mad about that for some reason.) That simple thank you can go a long way.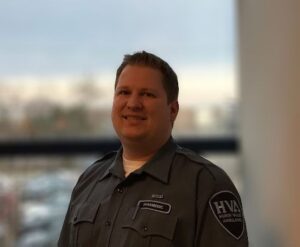 Matt Rose has been with Huron Valley Ambulance since 2006. During his time with the organization, he has served in many capacities including EMT, Paramedic, Field Training Officer and Mobile Intensive Care Unit Paramedic. Matt currently serves as the organization's Community Relations Coordinator and PIO.