EMS is a calling for me. It's something I've always felt passionate about and once I got the EMS bug it never left. While I never had the chance to work for Huron Valley Ambulance, it was always a goal of mine, and seeing HVA crews in action is what drew me to EMS in the first place.
I gained an interest in emergency medicine and public safety at a young age. I started out as a volunteer with the Red Cross at the age of 16 and had the opportunity to work as part of the First Aid Station Team at Michigan Football games. While working at one of the football games, I responded to my first-ever cardiac arrest. A fan at the game went into arrest and the Red Cross team started CPR on him. HVA promptly showed up, defibrillated the patient, and were able to revive him. Upon regaining consciousness, the patient stated, "I'm not leaving the game!" to which the medic replied, "You need to go to the hospital, they have the game on TV there." (That is a dedicated fan!)
After that incident, I was hooked. I would learn later in my EMS career that what I witnessed that day in the stadium was a very rare occurrence. It is not often that we as EMS providers get to see first-hand a true cardiac arrest save.
About eight years later, I moved to Montana and earned my Paramedic license. My full-time job is with the Red Cross, which would take me from Montana to upstate New York, where I am now a part-time Paramedic with Clifton Park & Halfmoon Emergency Corps.
Before my move to New York, I had considered coming back home to Michigan and had reached out to HVA with a desire to work in the community where I grew up. Sadly, my dad died shortly after that, leaving me without much reason to move back to MI. But when my dad died, HVA responded to the call and they were fantastic. I was very impressed with their professionalism and the way they handled the scene.
Thanks, HVA – for making such a big impact on my life and for guiding me into a field that I have so much passion for.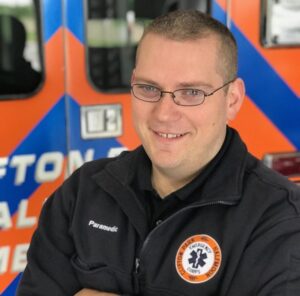 David Kunzelman is a Paramedic with Clifton Park & Halfmoon Emergency Corps 
in Halfmoon, New York.