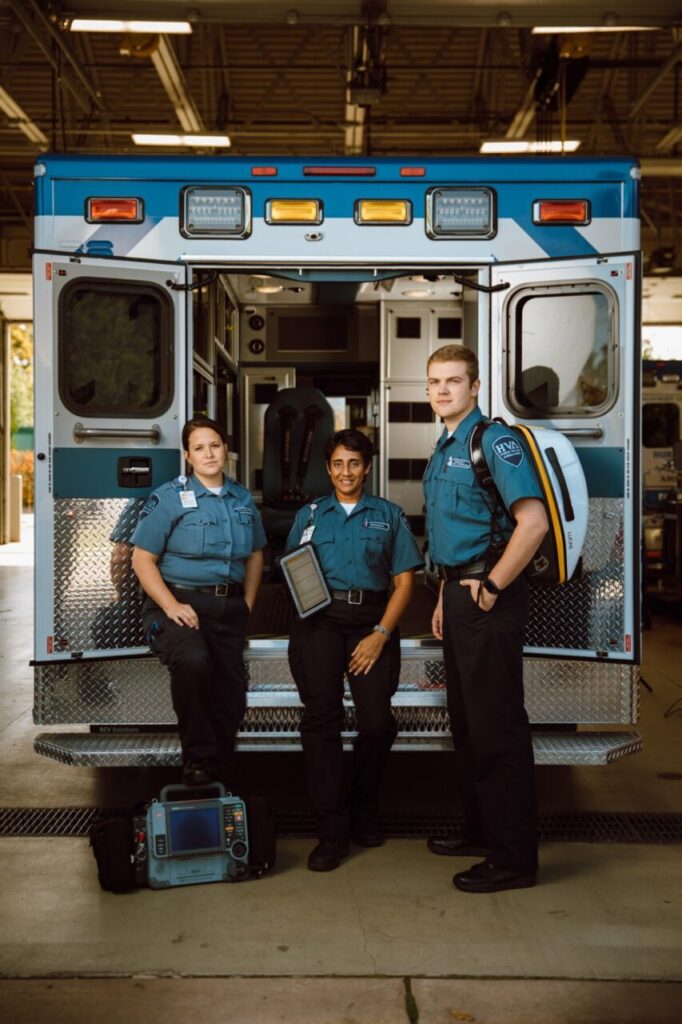 Huron Valley Ambulance is a non-profit EMS organization that serves all of Washtenaw County and parts of Wayne and Oakland counties.
Since our founding in 1981, we have built our reputation as a trusted, high-quality ambulance service. We are known for being a leader in EMS and for the compassion and caliber of our employees. Our main headquarters is in Ann Arbor, MI, with a secondary headquarters in Plymouth, MI. HVA is a proud member of Emergent Health Partners.
We value our vital role as first responders in the communities we serve and strive to be a trusted piece of the public safety and healthcare framework. As such, we have built strong relationships with local Fire Departments, hospitals, and critical healthcare services throughout our service area, allowing for effective collaborations that put the needs of the public at the top of all we do.
"The way she is treated by ALL of the people who transport her to dialysis is truly extraordinary. Often it's the highlight of her day. The play music for her, make sure she is warm, and treat her with incredible respect. Thank you so much to everyone at HVA."
Family Member of Frequent Patient
"Thank you all for your service! I have been helped by you guys more than once and have always trusted you with my life. Last night I had an emergency and I cannot thank the crew enough for their help. They are amazing!"
Past Patient
"A BIG thank you to the medics who took us home after a long day of doctor appointments at Mott. Our truck had broken down and we had no way to transport our daughter, who is trach and vent dependent. The medics were super helpful and very friendly. They made the long ride great and they made our daughter feel very comfortable. Their level of understanding and patient care was exceptional!"
Parents of Pediatric Patient
"The men who came to our home were so kind and helpful, they treated my mother with such care. We are truly grateful to them for responding so quickly, treating her so well, and getting her to the hospital fast and safe. If it weren't for those men, my mom probably wouldn't be here today. Your jobs are so important, and you literally helped save my mom's life. Our family is forever grateful"
Daughter of Patient
"A huge thank you to our friends at Huron Valley Ambulance for all they do. From participating in community events, such as our Fall River Day, to being there for people on the worst day of their lives, or for people who just don't know where else to turn. Thank you for providing exceptional EMS services for the Ypsilanti Community!"
City of Ypsilanti Parks and Recreation
"I had the opportunity to ride in an HVA ambulance as an escort for a co-worker who fell sick. The crew who answered the call were the ultimate consummate professionals. They were kind, efficient, and knew their business. They handled the cardiac emergency with the skill set and calm of someone who has done this a million times. They had excellent bedside manner, and I came back with a lot of respect for our colleagues at HVA. Our community is lucky to have such kind and skilled first responders."
U of M professor of Medicine
"As a hospital/police chaplain, I spend a lot of time at U of M Hospital. When I'm ministering in the emergency room, I see one HVA crew after another come in. What a first-rate, professional company! I'm not sure if they are the best, but if not, they are certainly tied for first place."
Hospital & Police Chaplain