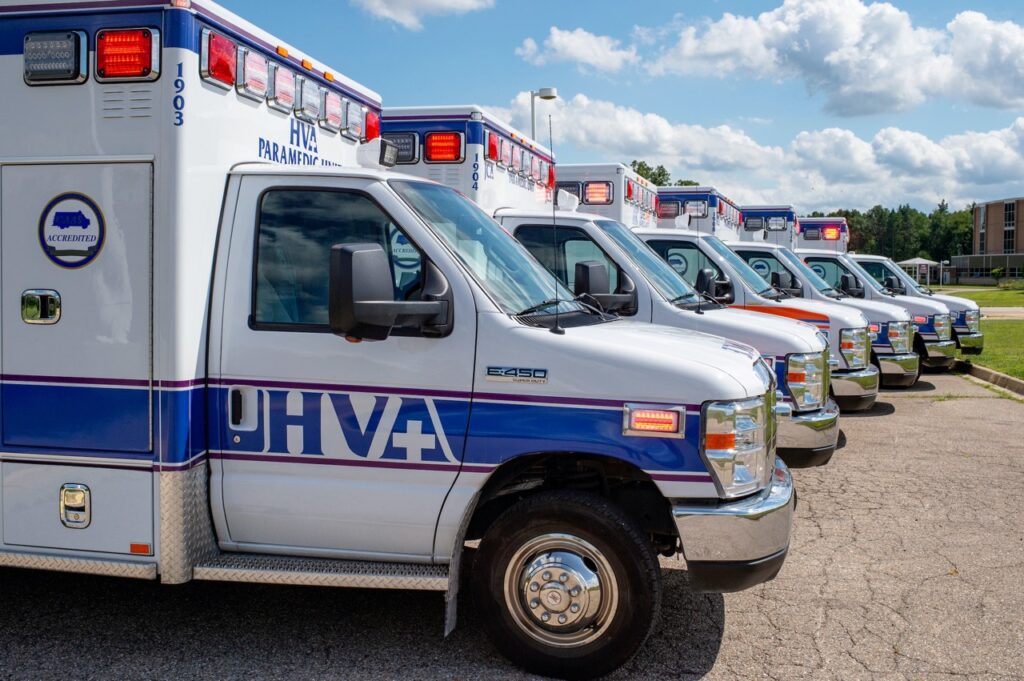 The Center for EMS Education has been training Michigan's EMS providers for over 35 years.
Our program is designed to give you hands-on experience in emergency medicine and to prepare you for state and national certification exams.
Get in Touch
Email: emseducation@emergenthealth.org
Phone: 734-477-6331
Certification Courses for the General Public
Certification Courses for Medical Professionals
American Heart Association CPR and first aid classes
EMS Education is proud to offer AHA CPR certification courses and community courses as time allows. Please fill out our interest form below if you have a CPR or First Aid class request. Pricing is outlined but is not due until a class is registered.
Hands-Only CPR (Free): A one-hour non-certification course teaching Hands-Only CPR with chest compression practice on manikins. 
Community First Aid (Free): A non-certification course teaching basic First Aid. This course can cover specific requested topics or basic curriculum can be provided.
Stop the Bleed (Free): A non-certification course teaching how to stop a bleed with opportunities for practice. A certification course may be available upon request. 
AHA BLS Provider ($75/person): The BLS provider course is a 4-hour, in-person provider level CPR course for those working in or beginning their career in the healthcare industry.
AHA Heartcode BLS and Skills Check ($85/person): The Heartcode BLS is designed for professionals. It is a hybrid course with online modules and testing followed by a 1.5-hour skills check. The online portion of the course must be completed before the skills check.
AHA Heartsaver CPR AED ($65): The Heartsaver CPR AED course is a 3+ hour in-person CPR certification course designed for the general public.
AHA Heartsaver First Aid ($65): The Heartsaver First Aid course is a 3 Hour in-person firstaid certification course for the general public.
AHA Heartsaver First Aid CPR AED ($95): The Heartsaver First Aid CPR AED course is a 6-hour in-person first aid and CPR certification course designed for the general public.
AHA Heartsaver for K-12 Schools (Inquire for pricing): The Heartsaver for K-12 Schools is an in-person certification course for students and teachers of K-12 schools. Participants must have the physical ability to perform CPR and complete the requirements of the course. Middle schoolers are typically the youngest participants that are successful. Younger students may benefit from the Hands-Only course.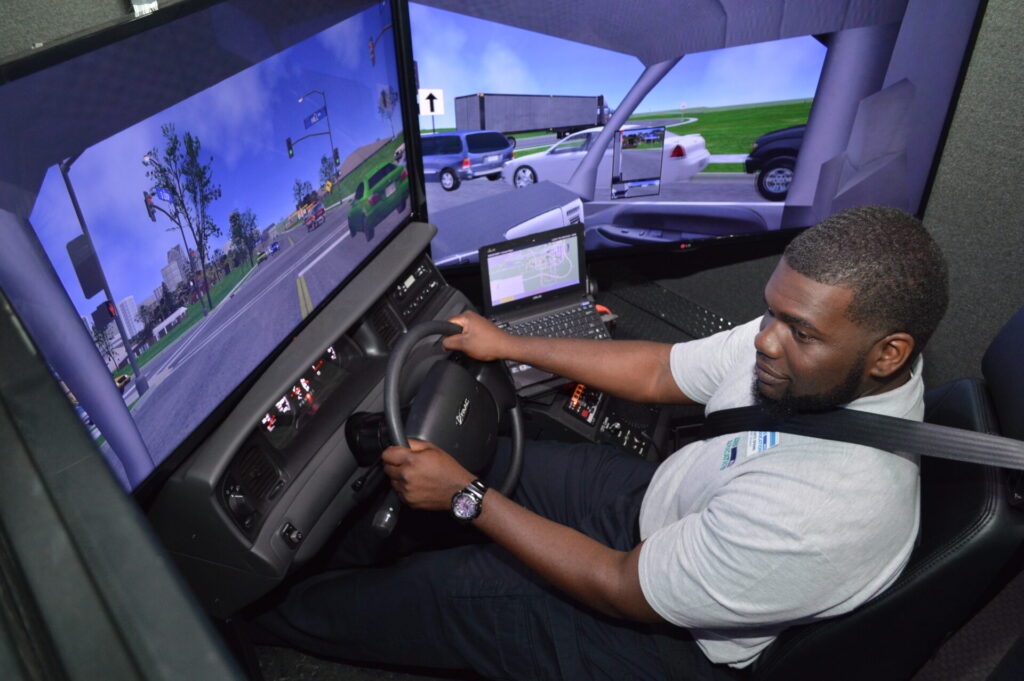 As the Education Center for Michigan's largest EMS provider, we are driven to see our students succeed and develop into strong medical professionals. We employ over 70% of our program graduates, the quality of our EMS force is dependent on the quality of training they receive as students.
It is the goal of our program to prepare competent entry-level Paramedics in the cognitive (knowledge), psychomotor (skills), and affective (behavior) learning domains with or without exit points at the Advanced Emergency Medical Technician and/or Emergency Medical Technician, and/or Emergency Medical Responder levels.
Hands-On Teaching Practices
We strive to stay up-to-date in our teaching practices and meet student needs in a variety of ways. We accomplish this through:
Modern teaching tools, including an EMS

driving simulator

, interactive simulated

scene response training

, and a

SimMan

patient simulator. 

Varied class options, including fully online lectures with in-person labs, satellite learning lab sessions, traditional classroom learning, and daytime/evening class and lab options.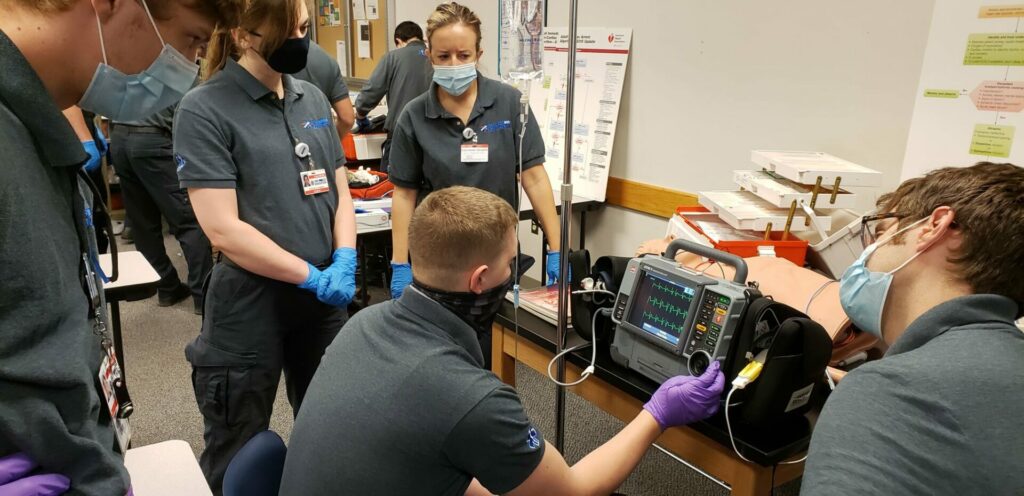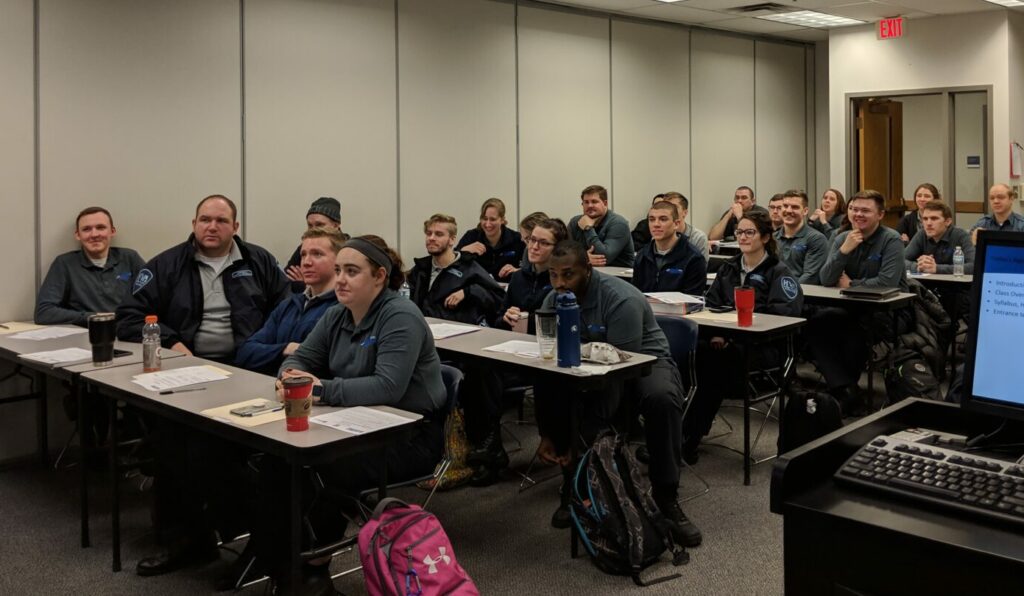 We are Michigan's leader in EMS Education. We hold our students to high standards that prepare them for academic success and allow them to serve as skilled and competent medical providers in the field. Our program offers:
Instructors with years of experience working as EMS providers

Curriculum based on state and national standards and industry best practices

Hands-on guidance for clinical skills including in-depth lab sessions and support from licensed lab assistants 

Field clinicals in healthcare settings and an ambulance with experienced EMS providers

One-on-one tutoring and support when needed 

Education Coordinators and Lab Assistants split their time between the classroom and working in the ambulance, keeping them up-to-date on real-world practices
Our students are well-prepared to be successful on state and national EMS registry exams. Our graduates have a 95% pass rate on their first attempt on the National Registry exam – far exceeding the state and national average first attempt pass rates (64% and 73% respectively). See our
National Registry Pass Rates
>>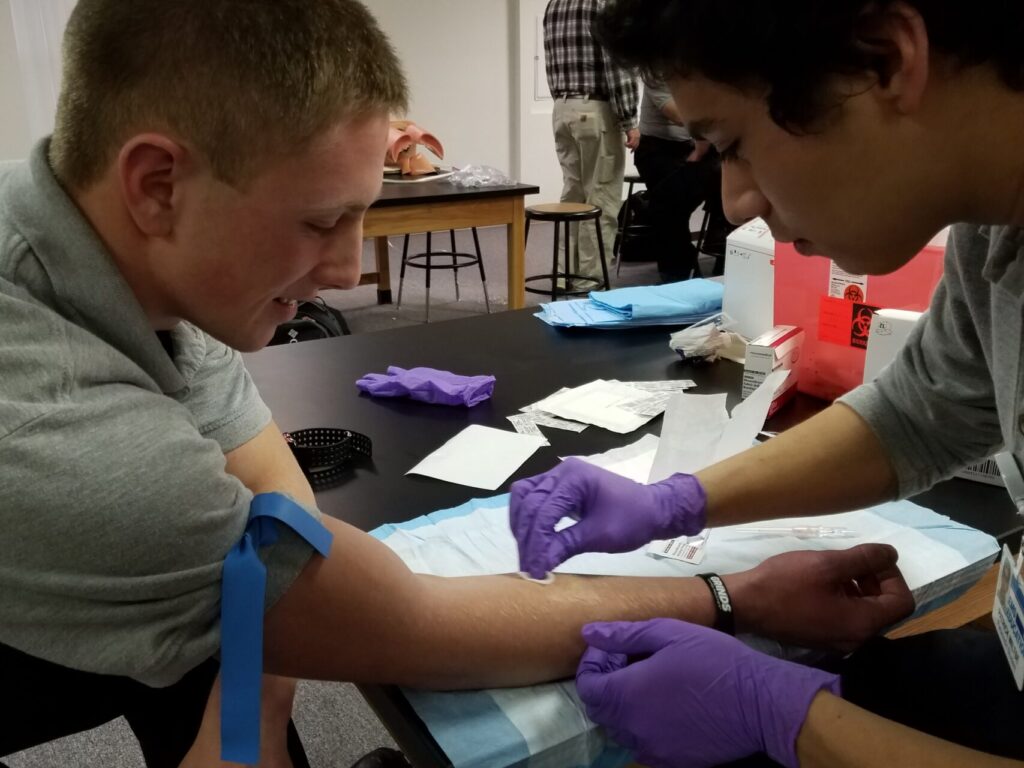 EMS EDUCATION COURSE SCHEDULE
Registration for Spring 2023 is currently closed. Fall 2023 registration will begin in late July for classes that start in September.
May 1, 2023 – August 21, 2023
Blended course | Online instruction, in-person labs
This is a traditional in-person EMT program. Coursework is online with in-person labs.
Lab sessions will either meet once a week on Thursdays from 8:00 am – 3:00 pm or twice a week on either M/W or T/Th from 6:00 pm – 9:00 pm.
Students choose to attend labs at the Ann Arbor or Jackson campus. All lab sessions are mandatory. 
Tuition is $1,700 + the cost of books and uniforms. Tuition is due in full at registration.
May 15, 2023 – August 3, 2023
Blended course | Online instruction, in-person labs | Apply here.
This is a 12-week paid EMT Academy with a two-year full-time work commitment after course completion. 
Coursework is a mixure of online and in-person. Labs are in-person. The class meets four days a weeks, six hours a day.
The cost of tuition, books, uniforms, supplies, and testing are all included in this course.
May 8, 2023 – August 14, 2023
Fully online course
This course is a prerequisite for the paramedic program and it is strongly encouraged as a co-requisite for EMT students.
Tuition is $900 + the cost of the book and lab manual. Tuition is due in full at registration.
Join our mailing list to receive updates about future classes!
Use the arrows to toggle through the calendar and see our full course offerings.